Multiracial Actress Naiya Singh Padilla lands 3rd NBA Lane Feature, "Imagine," honouring Dr. Martin Luther King Jr.
LOS ANGELES, CA, January 11, 2022 /24-7PressRelease/ — The "NBA Lane" campaign continues with the unveiling of "Imagine"; an intense spot that pays homage to the life and legacy of Dr. Martin Luther King Jr. The commercial directed by Rudy Crew, dropped two weeks ahead of MLK Day, which falls on Monday, January 17th. Naiya Singh Padilla, also known as BKN Sam, was again featured in the 30-second video alongside Juliet Donenfeld, Dax Ray, Kyrie McAlpin and Mateo Ray Garcia and retired NBA legend Dywane Wade.
The commercial spot leads with the former Miami Heat champion Dwyane Wade presence and voice interpolated with footage from the Civil Rights Movement. There are some of the most influential sound bites from Dr. King's "The American Dream" speech, given on July 4th, 1965 in Atlanta, Georgia.
According to NBA.com, the 30-second video opens up with Wade saying "imagine changing the world by appealing to the hearts and minds of your neighbors." Naiya Singh Padilla, Juliet Donenfeld, Dax Ray, Kyrie McAlpin, and Mateo Ray Garcia are in admiration watching footage of Dr. King's speech. The children represent the next generation that has the power to bring about the change that is voiced in the spot.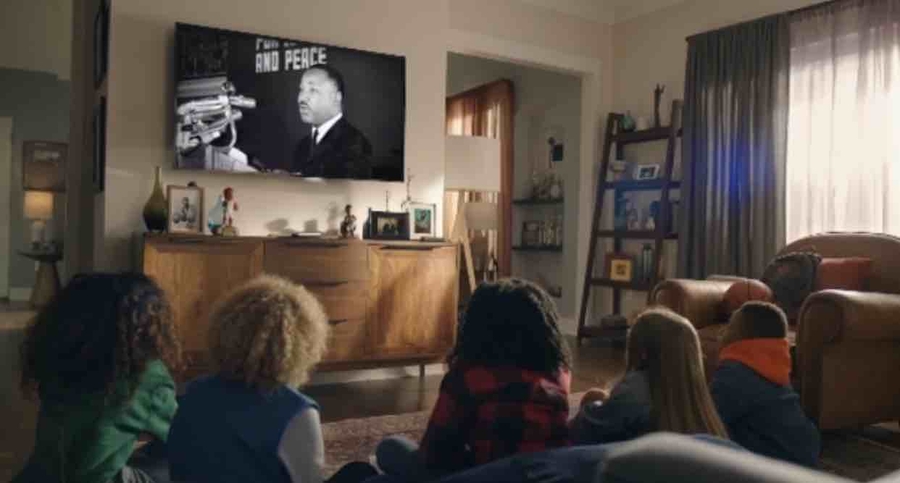 "The time is always right to do right," Dr. King is shown, while Naiya, Juliet, Dax, Kyrie and Mateo are watching Dr. Martin Luther King Jr. speak on the television. In a call to action, Wade closes by saying, "imagine all that power … Now, imagine all that power in you."
"Each year, the NBA honors the life and legacy of Dr. King through initiatives that bridge divides in our communities and elevates the voices of players, coaches, fans and others throughout the NBA family," notes NBA CMO Kate Jhaveri. Throughout the month of January, all 30 NBA teams will be honoring Dr. King's life and legacy as the NBA and its fans continue throughout the season to celebrate its 75th Anniversary.
All the NBA Lane campaign videos can be seen here:
https://www.youtube.com/watch?v=EUM8bLUVj5w
https://www.youtube.com/watch?v=htVXus0PyS8
https://www.youtube.com/watch?v=t1vaembXXRE
Naiya Singh Padilla is a beautiful young multiracial actress on the rise. Her mom is Shkira Singh, Punjabi East Indian from England. Her father is Don Padilla, Black and Mexican American from California. Her parents are very proud of their daughter following her passion and living out her dreams. She's managed by MVP Sports and Entertainment Management and her agents are Paradigm and Coast to Coast. Naiya trains at the famous Shanelle Gray Studios. For interviews please contact [email protected] or [email protected]